The Bluetooth standards maze
May 2007
This posting focuses on low-power wireless technologies that enable communication between devices that are located within a few feet of each other. This can apply to both voice communications as well as data communication.
This whole area is becoming quite complex with a whole raft of standards being worked on - ULB, UWB, Wibree, Zigbee etc. This may seem rather strange bearing in mind the wide-scale use of the key wireless technology in this space - Bluetooth.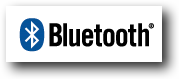 We are all familiar with Bluetooth as it is now as ubiquitous in use as Wi-Fi but it has had a chequered history by any standard and this has negatively affected its take-up across many market sectors.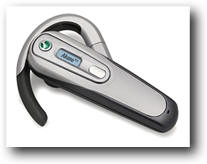 Bluetooth first saw the light of day as an 'invention' by Ericsson in Sweden back in 1994 and was intended as a wireless standard for use as a low-power inter-'gadget' communication mechanism (Ericsson actually closed the Bluetooth division in 2004). This initially meant hands-free ear pieces for use with mobile phones. This is actually quite a demanding application as there is no room for drop outs as in an IP network as this would be a cause for severe dissatisfaction from users.
Incidentally, I always remember buying my first Sony Ericsson hands-free earpiece that I bought in 2000 as everyone kept giving me weird looks when I wore it in the street - nothing much has changed I think!
Standardisation of Bluetooth was taken over by the Bluetooth Special Interest Group (SIG) following its formation in 1998 by Sony Ericsson, IBM, Intel, Toshiba, and Nokia. Like many new technologies, it was launched with great industry fanfare as the up-and-coming new thing. This was pretty much at the same time as WAP (Covered in a previous post: WAP, GPRS, HSDPA on the move!) was being evangelised. Both of these initiatives initially failed to live up to consumer expectations following the extensive press and vendor coverage.
Bluetooth's strength lies in its core feature set:
It operates in the 'no licence' industrial, scientific and medical (ISM) spectrum of 2.4 to 2.485 GHz (as does Wi-Fi of course)


It uses a spread spectrum, frequency hopping, full-duplex signal at a nominal rate of 1600 hops/sec


Power can be altered from 100mW (Class 1) down to 1mW (Class 3), thus effectively reducing the distance of transmission from 10 metres to 1 metre


It uses adaptive frequency hopping (AFH) capability with the transmission hopping between 79 frequencies at 1 MHz intervals to help reduce co-cannel interference from other users of the ISM band. This is key to giving Bluetooth a high degree of interference immunity


Bluetooth pairing occurs when two Bluetooth devices agree to communicate with each other and establish a connection. This works because each Bluetooth device has a unique name given it by the user or as set as the default
Several issues beset early Bluetooth deployments:
A large lack of compatibility between devices meant that Bluetooth devices from different vendors failed to work with each other. This caused quite a few problems both in the hands-free mobile world and the personal computer peripheral world and led to several quick updates.


In the PC world, user interfaces were poor forcing ordinary users to become experts in finding their way around arcane set-up menus.


There were also a considerable number of issues arising in the area of security. There was much discussion about Bluejacking where an individual could send unsolicited messages to nearby phones that were 'discoverable'. However, people that turned off discoverability needed an extra step to receive legitimate data transfers thus complicated 'legitimate' use.
Early versions of the standard were fraught with problems and the 1Mbit/s v1.0 release was rapidly updated to v1.1 which overcame many of the early problems. This was followed up by v1.2 in 2003 which helped reduce co-channel interference from non-Bluetooth wireless technologies such as Wi-Fi.
In 2004, V2.0 + Enhanced Data Rate (EDR) was announced that offered higher data rates - up to 3Mbit/s - and reduced power consumption.
To bring us up to date, V2.1 + Enhanced Data Rate (EDR) was released in August 2007 which offered a number of enhancements the major of which seems to be an improved and easier-to-use mechanism for pairing devices.
The next version of Bluetooth is v3.0 which will be based on ultra-wideband (UWB) wireless technology. This is called high speed Bluetooth while there is another proposed variant, announced in June 2007, called Ultra Low Power Bluetooth (ULB).
During this spread of updates, most of the early days problems that plagued Bluetooth have been addressed but it cannot be assumed that Bluetooth's market share is unassailable as there are a number of alternatives on the table as it is viewed that Bluetooth does not meet all the market's needs - especially the automotive market.
Low-power wireless
Ultra Low-power Bluetooth (ULB)
Before talking about ULB, we need to look at one of its antecedents, Wibree.
This must be one of the shortest lived 'standards' of all time! Wibree was announced in October 2006 by Nokia though they did indicate that they would be willing to merge its activities with other standards activities if that made sense.
"Nokia today introduced Wibree technology as an open industry initiative extending local connectivity to small devices... consuming only a fraction of the power compared to other such radio technologies, enabling smaller and less costly implementations and being easy to integrate with Bluetooth solutions."
Nokia felt that there was no agreed open standard for ultra-low power communications so it decided that it was going to develop one. One of the features that consumes power in Bluetooth is its frequency hopping capability so Wibree would not use it. Wibree is also more tuned to data applications as it used variable packet lengths unlike the fixed packet length of Bluetooth. This looks similar to the major argument that took place when ATM (The demise of ATM) was first mooted. The voice community wanted short packets while the data community wanted long or variable packets - the industry ended up with a compromise that suited neither application.
More on Wibree can be found at wibree.com . According to this site:
"Wibree and Bluetooth technology are complementary technologies. Bluetooth technology is well-suited for streaming and data-intensive applications such as file transfer and Wibree is designed for applications where ultra low power consumption, small size and low cost are the critical requirements ... such as watches and sports sensors".
On June 12th 2007 Wibree merged with the Bluetooth SIG and the webcast of the event can be seen here. This will result in Wibree becoming part of the Bluetooth specification as an ultra low-power extension of Bluetooth known as ULB.
ULB is intended to complement the existing Bluetooth standard by incorporating Wibree's original target of reducing the power consumption of devices using it - it aims to consume only a fraction of the power current Bluetooth devices consume. ULB will be designed to operate in a standalone mode or in a dual-mode as a bolt-on to Bluetooth. ULB will reuse existing Bluetooth antennas and needs just a small bit of addition logic when operating in dual-mode with standard Bluetooth so it should not add too much to costs.

When announced, the Bluetooth SIG said that NLB was aimed at wireless enabling small personal devices such as sports sensors (heart rate monitors), healthcare monitors (blood pressure monitors), watches (remote control of phones or MP3 players) and automotive devices (tyre pressure monitors).
Zigbee

The Zigbee standard is managed by the Zigbee Alliance and was developed by the IEEE as standard 802.15.4 It was ratified in 2004.
According to the Alliance site:
"ZigBee was created to address the market need for a cost-effective, standards-based wireless networking solution that supports low data-rates, low-power consumption, security, and reliability.
ZigBee is the only standards-based technology that addresses the unique needs of most remote monitoring and control and sensory network applications."
This puts the Bluetooth ULB standard in competition with Zigbee as it aims to be cheaper and simpler to implement than Bluetooth itself. In a similar way to the ULB team announcements, Zigbee uses about 10% of the software and power required to run a Bluetooth node..
A good overview can be found here - ZigBee Alliance Tutorial - which talks about all the same applications as outlined in the joint Wibree / Bluetooth NLB announcement above. Zigbee's characteristics are:
Low power compared to Bluetooth

High resilience as iill operate in a much noisier environment that Bluetooth or Wi-Fi

Full mesh working between nodes

250kbit/s data rate

Up to 65,536 nodes.
The alliance says this makes Zigbee ideal for both home automation and industrial applications.
It's interesting to see that one of Zigbee's standard competitors has posted an article entitled New Tests Cast Doubts on ZigBee . All's fair in love and war I guess!
So there we have it. It looks like Bluetooth ULB is being defined to compete with Zigbee.

High-speed wireless
High Speed Bluetooth 3.0
There doesn't seem to be too much information to be found on the proposed Bluetooth version 3.0. However on the WiMedia Alliance site I found the statement by Michael Foley, Executive Director, Bluetooth SIG. WiMedia is the organisation that lies behind Ultra Wide-band (UWB) wireless standards.
"Having considered the UWB technology options, the decision ultimately came down to what our members want, which is to leverage their current investments in both UWB and Bluetooth technologies and meet the high-speed demands of their customers. By working closely with the WiMedia Alliance to create the next version of Bluetooth technology, we will enable our members to do just that."
According to a May 2007 presentation entitled High-Speed Bluetooth on the Wimedia site, the Bluetooth SIG will reference the WiMedia Alliance [UWB] specification and the solution will be branded with Bluetooth trademarks. The solution will be backwards compatible with the current 2.0 Bluetooth standard.
It also talks about a combined Bluetooth/UWB stack:
With high data rate mode devices containing two radios initially

Over time, the radios will become more tightly integrated sharing components
The specification will be completed in Q4 2007 and first silicon prototyping complete in Q3 2008. I have to say that this approach does not look to be either elegant or low cost to me. However, time will tell.
That completes the Bluetooth camp of wireless technologies. Let's look at some others.

Ultra-wide Bandwidth (UWB)

As the Bluetooth SIG has adopted UWB as the base of Bluetooth 3.0 what actually is UWB. A good UWB overview presentation can be found here. Essentially, UWB is a wireless protocol that can deliver a high bandwidth over short distances.
It's characteristics are:
UWB uses spread spectrum techniques over a very wide bandwidth in the 3.1 to 10GHz spectrum in the US and 6.0 to 8.5GHz in Europe

It uses very low power so that it 'co-exist' with other services that use the same spectrum

It aims to deliver 480Mbit/s at distances of several metres
The following diagram from the presentation describes it well: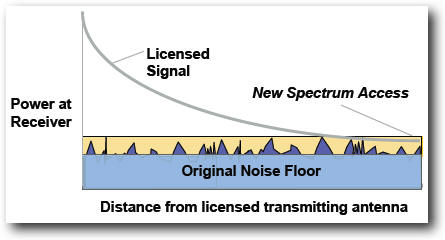 In theory, there should never be an instance where UWB interferes with an existing licensed service. In some ways, this has similarities to BPL (The curse of BPL), though it should not be so profound in its effects. To avoid interference it uses Detect and Avoid (DAA) technology which I guess is self defining in its description without going into too much detail here.
One company that is making UWB chips is Artimi based in Cambridge, UK.

Wireless USB (WUSB)

In the same way that the Bluetooth SIG has adopted UWB, the USB Implementers Forum has adopted WiMedia's UWB specification as the basis of Wireless USB. According to Jeff Ravencraft, President and Chairman, USB-IF and Technology Strategist, Intel:
"Certified Wireless USB from the USB-IF, built on WiMedia's UWB platform, is designed to usher in today's more than 2 billion wired USB devices into the area of wireless connectivity while providing a robust wireless solution for future implementations. The WiMedia Radio Platform meets our objective of using industry standards to ensure coexistence with other WiMedia UWB connectivity protocols."
A presentation on Wireless USB can be downloaded here
Wireless USB will deliver around the same bandwidth as Bluetooth 3.0 - 480Mbit/s at 3 metres because it is based on the same technology and will be built into Microsoft Vista.™.
One is bound to ask, what the difference is between Wireless USB and Bluetooth as they are going to be based on the same standard. Well one answer is that Wireless USB products are being shipped today as seen in the Belkin Wireless USB Adapter as shown on the right.
A real benefit of both standards adopting UWB will be that both standards will use the same underlying radio. Manufacturers can choose whatever which ever standard they want and there is no need to change hardware designs. This can only help both standard's adoption.
However, because of the wide spectrum required to run UWB - multiple GHz - different spectrum ranges in each region are being allocated. This is a very big problem as it means that radios in each country or region will need to be different to accommodate the disparate regulatory requirements.
In the same way that Bluetooth ULB will compete with Zigbee (an available technology), Bluetooth 3.0 will compete with Wireless USB (also an available technology).
Round up
So there you have it - the relationships between Bluetooth 2.0, Bluetooth 3.0, Wibree, Bluetooth ULB, Zigbee, High speed Bluetooth, UWB and Wireless USB. So things are clear now right?
So what about Wi-Fi's big brother WIMAX? And don't let us forget about HSPDA (WAP, GPRS, HSDPA on the move!), the 3G answer to broadband services? At least these can be put in a category of wide area wireless services to separate them from near distance wireless technologies. I have to say I find all these standards very confusing and makes any decision that relies on a bet about which technology will win out in the long run exceedingly risky. At least Bluetooth 3.0 and Wireless USB use the same radio!
At an industry conference I attended this morning, a speaker talked about an "arms war" between telcos and technology vendors. If you add standards bodies to this mix, I really do wonder where we consumers are placed in their priorities. Can you see PC manufacturers building all these standards onto their machines?
I could also write about WIMAX, Near Field Communications, Z-wave and RF-ID but I think that is better left for another day!