An alternative to the 6M7JHV antenna for 6m / 50MHz
Checking the forward gain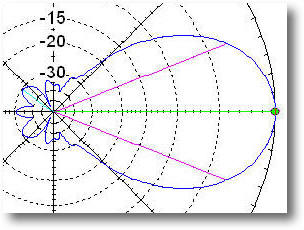 Forward gain
The best beacon I can use to check the gain of the antenna is GB3MCB in St Austell , Cornwall on 50.042.50MHz and located in IO70OJ which is always very weak at this QTH.
I'm pleased to say that the strength of the beacon on the LFA2 was similar to that of the 6M7JHC as would be expected from the design specifications.
On-air tests
When tuning on a strong signal I can detect no sign of the two forward facing lobes as I tune either side of the main beam.