An alternative to the 6M7JHV antenna for 6m / 50MHz
Cock ups!
Warning and cock up! There seem to be a lot of pipe benders on Ebay. G4CCZ bought the expensive £12.95 version and I, as usual, went for cheap £4.95 version. Normally, the pipe is at right angles when you put in the bender, but with mine, the pipe sat at 20 degrees! I really could not understand why this should be so I had to file 5mm off the guide bar as can be seen in the photo below. So be warned! There are manufacturing rejects being sold on Ebay without any warnings! I'm not too worried about this as I doubt (ha!) that I will need to use it again.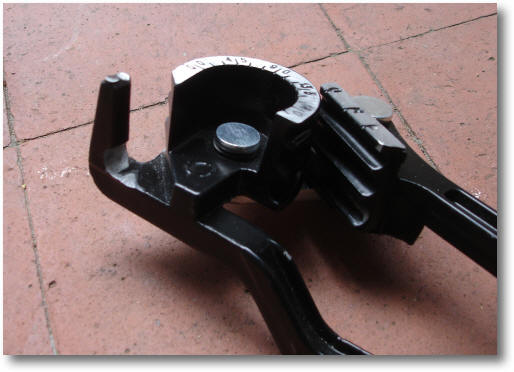 The factory manufacturing fault pipe bender
I managed to break some 3/8" tube after I bent it in the wrong direction and tried to bend it back - it only happened once I promise"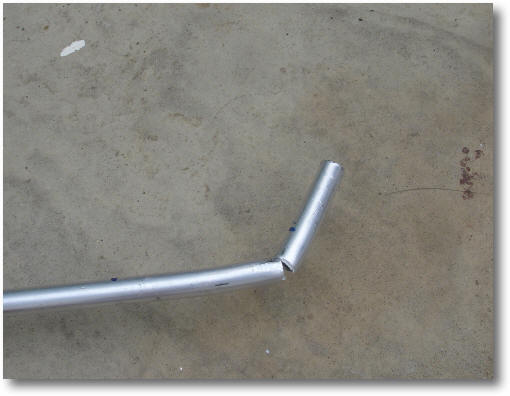 Broken tubing
This is what happens when you rush - using the cross-cut saw I chopped the mast bracket to the wrong guide line - the air was blue I can assure you!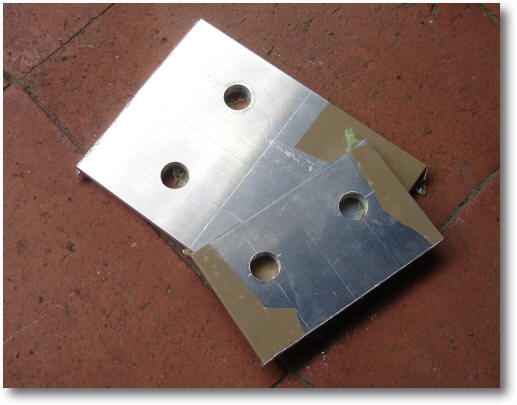 Cutting to the wrong guide line!
When putting the bracket on the stub mast, I forgot to put Vaseline on the threads and I guess I over-tightened it some how (I also did not have a washer on this screw).
This resulted in the screw completely locking up and the only way I could get it off was by using an angle grinder to cut it off. This is called 'galling' and can happen more often that you would believe.
The moral? Lubricate your bolts with Vaseline or grease before tightening them up!

Galling on a brand new M10 x 100mm screw.
My mega cock up
I'd been using the stack for a week and I was not happy with the results. I had a feeling that they were not working in the way I would have expected. In particular, I was hearing Lance W7GJ and Mickm W1JJ strongly on my 30 degree 3rd lobe and 20 degree second lobe but NOTHING on my 6 degree main lobe!
One day I monitored Lance and came up with the following plot that confirmed my suspicions.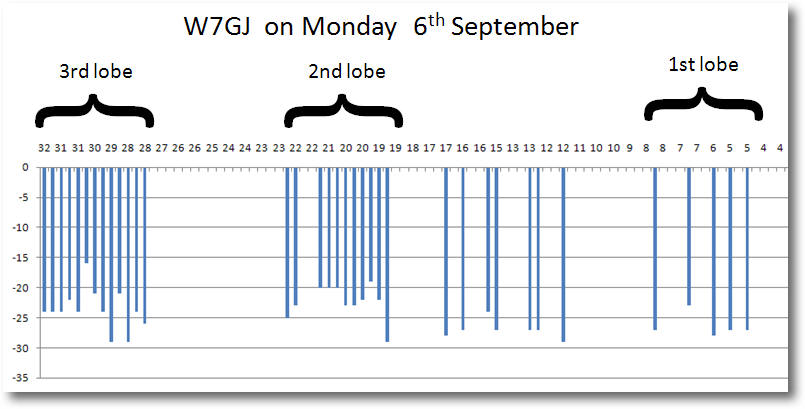 Monitoring W7GJ vi EME
I really could not understand why this should be. Then G4CCZ and G0KSC suggested that I might be feeding the stack out of phase instead of in-phase by accidentally getting connecting the coax to one of the antennas wrongly i.e. screen of the feed coax to the balun instead of the core.
Indeed, Justin provide me with a computer analysis of what this error would look like in practice which can be seen below. WOW, it exactly matched what I was experiencing in practice!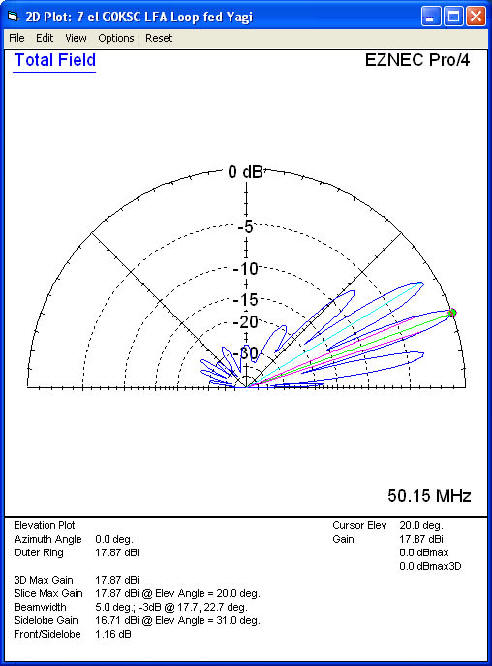 What the antenna lobes would look like if fed out of phase instead of in phase
I lowered the tower and just knew that one of the antennas was incorrectly connected and YES it was!
When I put the tower back up all the beacons were stronger and I obtained the following plot which now has the typical LFA double dip in SWR. It was clear from this plot that I need to reduce the size of the loop by a few mm to bring resonance back to 50.110MHz and reduce the SWR between the two dips. I'll do this shortly.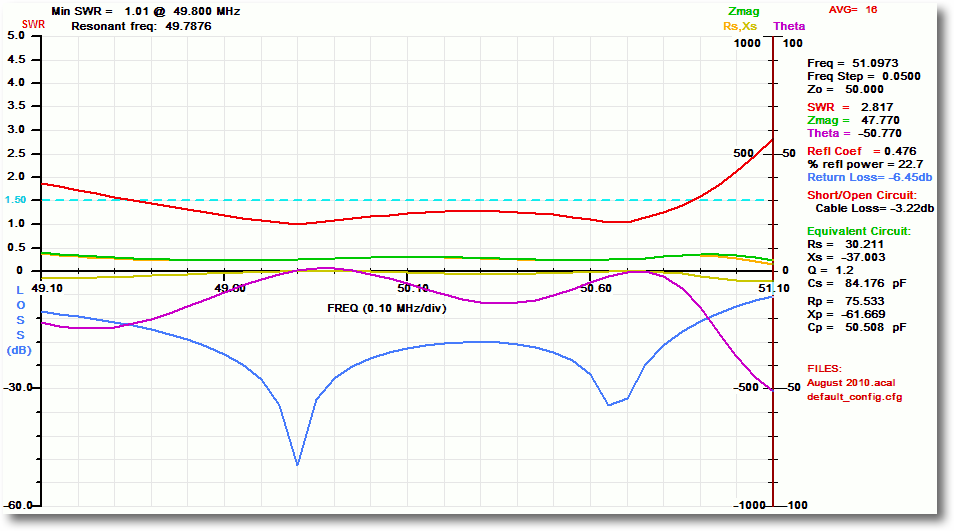 The new SWR plot of the stack
So now I should be able to hear Lance W7GJ off the moon on my newly emerged major lobe down to 0 degrees. It just shows how easily it is to make a mistake!