ZD8SIX on Ascension
The Background
On my trip to the Falkland Islands back in April 2000 as VP8DBL, we had to make a refuelling stopover in Ascension Island in the South Atlantic. I swore then that I would be return. That moment has now arrived as I am sitting in the departure lounge of RAF (Royal Air Force) Brize Norton, Oxfordshire in the UK yet again waiting to board the Trident whose first stop is Ascension on the way to the Falkland islands. Going through customs prepared me for the up and coming pileups as we were called through in alphabetic order starting with the "A to Es"! Donít you just love the way the military work? I guess it as good a way as any. I really must remember not to do this with the 6m pile-ups I hope soon to be experiencing as everyone will get upset. I must also remember to look for northern Europe, to state that I hate dupes, not to give locator codes, not run a pile-up on 110 and give my callsign on every QSO to make sure itís legal! Now, what else has caused ravings on the UKSMG Announcement page in the last year? Oh yes, keep the QSO rate high and not upset my fellow Europeans by calling for G only!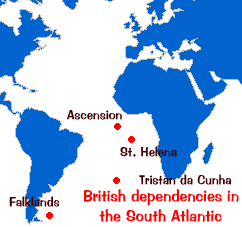 Ascension Island's location

So where is Ascension Island? Itís about 8o south of the equator and is around 34 square miles in size. It is located approximately in the middle of the South Atlantic being 900 miles west of Africa and 1,000 miles east of Brazil. The nearest land is the island of St Helena 700 miles to the southeast. The island is more or less completely volcanic in nature with the exception being the peak of Green Mountain (where the ZD8VHF beacon is located). The peak was used to support a farm and provided fresh food for the island in the past. There were also several water springs that, until a few years ago, were the sole source of the island's water until the power station desalination unit was built.
Ascension is a pretty desolate, but intriguingly beautiful, place with many of the lower plains looking like the surface of Mars covered as they are in ash and rocks as if they had been spewed from a volcano only yesterday. So close is it to that landscape, NASA tested its moon-buggy there some while ago! Ascension is an unusual place as it is essentially a working island. There are no real indigenous Ďresidentsí as such and all the occupants are really contractors working on the island for short periods. Nobody owns property either, but the way the island is run is due to be fundamentally reviewed next year I understand. The only way to get to the island is to fly using an RAF Trident from Brize Norton in the UK or catch the HMS St Helena that connects the island to St. Helena on a monthly basis. Politically, Ascension has been a protectorate of St. Helena since 1922 along with Tristan da Cunha.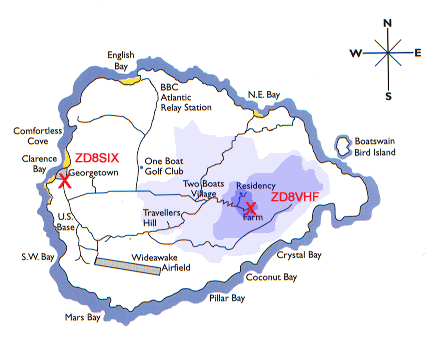 Map of Ascension Island
(Picture credit: C&W)
Ascension is a very young island only a few million years old with eruptions taking place as recently as 500 years ago.
The islandís recent history has everything to do with communications starting at the end of the last century in 1899 when the Eastern Telegraph Company (ETC, now Cable & Wireless) used the island as a hub for its trans-Atlantic submarine telegraph cables linking South Africa (ZS), St. Helena (ZD7), Ascension (ZD8), Cape Verde (D44) and the UK (G). A photograph of one of the cable landing sites at Comfortless Cove can be seen later.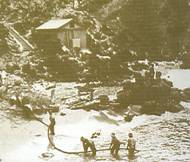 Landing the first cable at Comfortless Cove
(Picture credit: C&W)
At several times in its history, only a few people working for C&W have occupied it. It has always taken a strategic role in times of war but as soon as these periods end, Government cutbacks started which saw the removal of UK and US military staff together with significant financial cutbacks. Today, the island has staff working for the RAF, USAF the BBC and many Ďunnamedí government security agencies. The island is smothered with all kinds of exotic and massive antennas used by these organisations.
Other radio amateurs have activated Ascension on 6m before myself. These include Ted, ZD8TC otherwise known as G4UPS, in the late 1970s, many worked Mike, ZD8MB in cycle 22, Tim, ZD8PC (now V73PC) briefly a couple of years ago and now Johnny, ZD8KW who is on the island for on a twelve-month contract. Johnny only operates SSB so Iím hoping to make some interesting long distance, long-path CW (morse code) QSOs.

Two Boats, with Green Mountain in the background taken from the top of Sisters Peak
And what a time to go to Ascension! I chose the timing carefully and with much expectation as I thought that it might coincide with the peak of solar-cycle 23. There has been tremendous despondency about the quality of this cycle all the way through to early October 2000. But the band jumped into life in the last few days of October and we saw strong 6m propagation to Oceania for the first time this cycle in the UK. This bodes well for trip, but perhaps it was stupid of me not to stay at home to work a few more countries? Nah! Who cares? Much better to be out there, being rare DX myself and giving many others a new country. Looking at the DXcluster before I left home, I noticed that the ZD8VHF beacon on 50.032.5MHz was heard in southern Europe on an almost daily basis after 20:00 in the evening, but I wondered whether there were other paths at other times of the day? I bet there could be a few. Would I be able to have my first long-path QSOs while in ZD8? I hope so.

A smaller volcano sticking straight up just outside of Cats Hill, USAF airbase
Iíve been planning this trip for quite a while and made flight reservations with the RAF way back in June. What equipment should I take? Where should I locate the shack? What do I do about a mast? The questions seemed endless. It would help a great deal if I could find out whether there were any active amateurs on the island so I undertook a search on the Internet and sent out many mails trying to track down any amateur currently on Ascension. I managed to track down Jim Neiger, ZD8Z and several others. Eventually someone pointed to a guy called ĎLennyí had a ZD8 licence and was 'active' from the island. This turned out to Lenny, ZD8LJD who was located in Two Boats in the centre of the island. Back in July, I leant that Johnny, ZD7WDG would be moving to ZD8 also, so this gave me someone else who might be able to help me with my venture.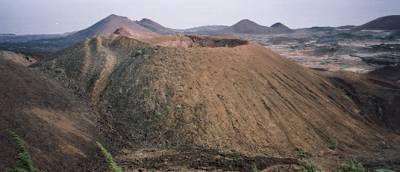 An extinct volcano next to the Sisters Peak- look at that crater!